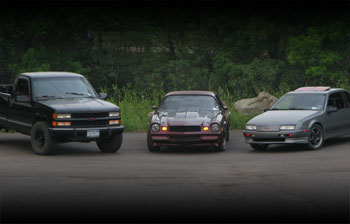 I've been building both of my cars to be all around performers. One is a little more fun and less practical, and the other is great for daily duties with a little extra adrenaline. I also added a truck to the stable as my workhorse. With an old FWD, RWD and 4WD, there's nothing else I need!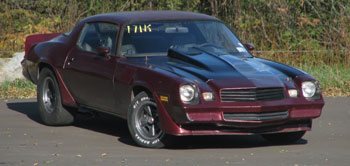 CAMARO
The Camaro is the first car I really heavily hot rodded. I bought it while I was in college, and it was pretty beat. After the torn up interior was updated with some newer Camaro leather seats and functional gauges I could get to the fun stuff.
Naturally, the engine was at the top of the list. I built a 400hp 355 small block that was a lot of fun, but it burned just as much clutch as rubber. So after some cutting & welding, I replaced the 4spd with a T56 6spd and SPEC Stage 3+ clutch. Next came the need for grip, with a set of Mickey Thompson drag radials and Slide-A-Link traction bars fitting the bill. I drove it and raced it for a few years while making my way down the to-do list, hitting shows and making friends along the way.

BERETTA
My first car was a Beretta, so I'll always have a soft spot for them. My high school GTZ with a 5spd and 7000rpm redline made a good first impression. I got another one in college, a Z26 that I engine swapped and modded, and drove it daily for 6 years until winter duty rusted the body out from under me. Both cars had their strengths and flaws, so my solution was to build the ideal Beretta - an "SS".
My "SS" started life as a 3.1L GT that was headed for scrap by the time I got it. For $200 I picked up the rust-free rolling chassis and got to work. I took the '04 Impala 3.4L v6 from my Z26 and a 5spd like the GTZ to get the best of both worlds. I gutted it, painted it, and built it to be the premier Beretta Chevy should have made.
The 3.4L breathes through a K&N intake and pushes the exhaust out S&S Grand Am headers to a full 2.5" exhaust with a tame, but high flowing Dynomax VT muffler. The SPEC 2+ clutch sends an estimated 220hp to the Muncie 5spd and the Engineered Performance LSD turns both the Driveshaft Shop HD axles. Eibach springs and KYB struts and shocks keep the 17x7 Speedy Lite-5 wheels and 225 rubber planted with the help of a GTZ front sway bar and big Addco out back. Bigger front rotors and a disc conversion in rear with a Lumina master cylinder whoa it down.
Inside, the conversion to all red LED illumination for the custom gauges and controls gives the car a modern feel. Leather for the steering wheel, shifter and Cobalt seats helps too. Retrofit cruise control and a CD/MP3 player make air-conditioned road trips comfortable...like the 15 hour drive to Berettafest in Tennessee.
The best thing about this car is the connections made with other Beretta geeks across the country. About a dozen meets later, I've made some lasting friendships in multiple states that go much deeper than Berettas.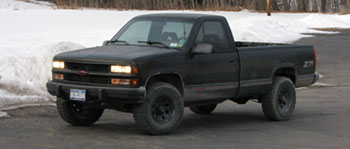 SILVERADO
I've never really been in to trucks because they're slow, they don't corner, and they suck gas. But I've found mine to be invaluable as a homeowner and a lot of fun in the mud and snow.
I bought mine primarily as a winter beater and swore I would leave it alone. So, naturally, I proceeded to rebuild the 350, swap out the auto for a 5spd, replace the 10-bolt with a 14-bolt and, of course, make it look meaner.
New 12cc pistons and Vortec heads put my 357 at 9.7:1 and about 300hp with the help of a 207° roller cam. Keeping the duration low keeps a lot of grunt - about 400lbft at 2000rpm. No small block is finished without headers, so there are stainless long tubes and a full single 3" exhaust with a Magnaflow muffler. The NV4500 5spd and BW transfer case are out of a 1-ton parts truck, as well as the hydroboost and huge front calipers. The 14-bolt and leaf springs are out of a 3/4 ton and really help when working it hard towing and hauling.
I also had to get rid of that hideous stock chrome, so the bumpers are painted, and the grille and wheels replaced. 33" Goodyears dig through mud & snow on 16x8 Cragar Soft 8 wheels.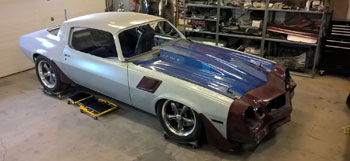 CAMARO 2.0
After finishing my Beretta project and getting my garage workshop all set, it was time to really get serious. This car deserved the attention to detail that I put in to the Beretta. So, I tore the car down to zero bolts - none - and put it on a rotisserie for a thorough overhaul.
I modified the wheel wells to tuck tire at a very low ride height and strengthened the chassis at its weakest links. The body was fully blasted and I fixed every bit of rust that was uncovered. Then I shot epoxy primer on everything and Lizard Skin heat & sound insulation on the underbody. With the major body work done, I should be spraying 2015 BMW Midnight Blue before too long.
The 355 is gone in favor of a fully forged 383 with EFI. AFR 195 aluminum heads and a 234/238° .574/.585" roller cam at 11.2:1 put the power estimate at 550. A Holley HP ECM will control the port fuel injection with a 1000cfm throttle body. Exhaust will be spent through long tube headers and dual 3" pipes with SpinTech mufflers. That same 6spd transmission will row the gears with a Pro-5.0 short throw shifter sending power through a DST 1350 driveshaft to the Moser-equipped 8.5" rear.
Suspension consists of Hotchkis springs and sway bars with KYB shocks. The 18" Legend wheels are wrapped in 255 & 295 rubber. With 13.4" rotors front & rear, the manual brakes should have no problem locking up those wide tires if need be.
Check out the videos section for some burnouts, racing, and other floored fun. After all, hot rods are at their best when you can hear them roar!