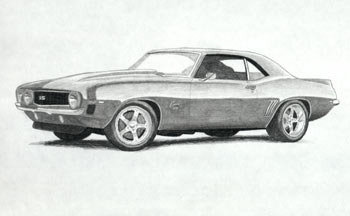 Realistic automotive renderings.
Freehand or computer generated images of your own car with unlimited possibilities. If you need a graphic, we can help.
You can either have a reproduction of your finished vehicle or a preview of your plans yet to be completed. Freehand pencil, freehand digital, stylized graphics and modified photographs are your choices of medium. You can get the image on paper stock to show off in person, digitally to send to your friends online, and even on a t-shirt.
Gearhead artwork is the most popular gift idea on the site, and for good reason. Surprise your motor head with a great looking keepsake by just supplying a photograph. It couldn't be any easier!
Contact us for any special questions or requests and we will be glad to help.